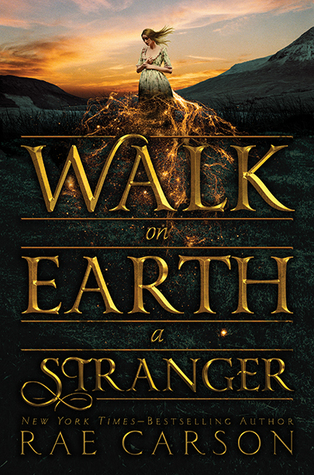 Title:
Walk on Earth A Stranger (Gold Seer Trilogy #1)
Author:
Rae Carson
Publication date:
September 22, 2015
Publisher:
Greenwillow Books (HarperCollins)
Genre:
YA, Fantasy, Historical Fiction
Rating:
Gold is in my blood, in my breath, even in the flecks in my eyes.

Lee Westfall has a strong, loving family. She has a home she loves and a loyal steed. She has a best friend—who might want to be something more.

She also has a secret.

Leee can sense gold in the world around her. Veins deep in the earth. Small nuggets in a stream. Even gold dust caught underneath a fingernail. She has kept her family safe and able to buy provisions, even through the harshest winters. But what would someone do to control a girl with that kind of power? A person might muder for it.

When everything Lee holds dear is ripped away, she flees west to California—where gold has just been discovered. Perhaps this will be the one place a magical girl can be herself. If she survives the journey.

The acclaimed Rae Carson begins a sweeping new trilogy set in Gold Rush-era America, about a young woman with a powerful and dangerous gift.
After completely loving Fire and Thorns trilogy by Rae Carson, I knew I would read anything else she wrote. And so when I got the chance to review Walk on Earth A Stranger, I grabbed it. And I am so glad I did.
In a few words, Walk on Earth A Stranger is the story of Leah Westfall who has the power to glean gold, wherever it might be. In an effort to escape from her uncle who murders her parents to get to her, Leah travels across the country to California at the start of the gold rush. Her rationale is that she would be able to conceal her power in a place where it wouldn't be a miracle to find gold.
Walk on Earth A Stranger has a few of Rae Carson's trademark styles, but its also different from her previous series in a lot of ways.
This first book in the series is not all that complex plot-wise.
It's pretty much Leah just travelling across the country, her struggles and the people she meets along the way. The magic is toned down a lot as well. So it does get slow a lot of times, but in my opinion this book is worth sitting through all the slow times, because of the incredible journey, as well as the promise of what will be coming in the second book.
The characters in this book are the heart of the story.
Leah is the opposite of Elisa in almost every way. She's confident, strong, and has a core of steel. The emotions she experiences (especially when concerned with her parent's death) hit you right in the gut, but her will to stand up and forge ahead albeit the seemingly insurmountable difficulties she encounters is admirable. When she sets off on the trail, she seems brave and focused, but its obvious that underneath all that she's just a scared little girl forced to run for her life. She also has very definite feminist sensibilities, and for that, I loved her.
Leah is a great protagonist, but for me, it was the secondary characters who really made an impact.
Carson has made a real effort to incorporate racial diversity (and racism) in the story, and she's done a fine job of it.
By far my favourite character was Becky Joyner. Given how long the book is, and the time it spans, the transformation that Becky goes through beginning to end - from haughty wife trying to hold tight to some stability in a world that's dizzyingly ephemeral, to a woman who has found her self and strength, and endured the hardships of the journey - is believable and simply marvellous. I loved it. One of the last scenes, in which she matter-of-factly claims Leah as family had me bursting with pride for her.
As far as the love interest is concerned, I'm not a big fan. I'd read this book for just Leah and her hotchpotch family. And this is the second of Carson's heroines that this is happening with. Maybe it's because she makes her protagonists such compelling young women that the presence of a love interest just seems... boring? Or maybe its the incredibly slow burn? Hmm something to think about.
An interesting thing to note is the lack of female friendships of Leah's own age.
There is a part of the book where this seems a possibility, but it fizzles out soon enough. I was sad to see friendship end, though, because it brought out a lighter, more girlish side to Leah, and that girl could do with some light-hearted girl fun. Well, maybe in the sequel?
Bottomline:
Walk on Earth A Stranger is a very long walk across the country with strangers who become family to a girl with no one, and makes for a strong, albeit slow start to a promising new series.
FROM AROUND THE BLOGOSPHERE
Fine Print:
Carson's secondary characters are dynamic and layered, and their stories and experiences helped Lee conceptualize the realities of the world around her.
Snuggly Oranges:
It felt like the plot had no peaks or valleys. No build up to exciting climaxes.
The Book Bratz:
Leah's narration is equal parts historically accurate and typical of a teenage girl even today, which I loved.
Holding Quote:
"The Missouri men are snakes," I whisper to Jeff. "The lot of them."
"Men are men," he says with a shrug. "Its men thinking other men are snakes that's the problem."
I want to belong only to myself.
Now that I'm a girl, I'm treated like I'm nobody again, to be owned or herded or strung along, so helpless and awful that I must be redeemed or married off because it's convenient for someone.